How to Become an Amazon Vendor and Succeed
If you're planning to sell online and make a profit, then you'll want to start selling on Amazon. In fact, I'm sure that's the first eCommerce platform that came to mind when planning where to sell your products. After all, the opportunities on Amazon are vast, from the millions of consumers down to the navigable interface sellers can understand.
However, while the platform is fairly easy to use, it can be tricky navigating around it as a beginner. It can be even trickier if you don't know where to begin in creating an account or knowing the requirements, fees, and what strategies to implement.
That's where this guide comes along, providing the information necessary in how to create your own Amazon Seller account down to effective strategies to garner more sales.
What's Unique About Amazon eCommerce?
Some sellers may presume that consumers begin their online buying journey on Google. Sure, consumers do a Google search, but you'll be surprised that Amazon is the usual starting point for most online shoppers.
In fact, numbers prove it!
44% of shoppers start their buying journey on Amazon (11% more compared to Google), with 40% of Americans purchasing from the platform at least once a month. This is just one of the many reasons why Amazon is the central hub when it comes to online shopping.
Here are the rest of the advantages of selling on Amazon eCommerce:
It's Easy to Start
It isn't only the interface that's easy, to begin with, but creating an account as well. Launching your products on the platform is straightforward, and depending on the product category, it's easier than expected.
While certain categories require approval and to pass certain selling requirements, the process is still pretty easy, while you get the reach of millions of consumers. Amazon will also provide you effective seller tools and an infrastructure to get you started on selling.
Great for Businesses with Unique Products
If you're a business offering exclusive products, then you'll find that Amazon Marketplace is a great partner to work with. Again, it's easy to use and encouraging for small businesses, especially with their FBA program taking away the pressure and work of logistics. That way, you can focus more on providing high-quality products and customer service, along with effective marketing strategies.
If you create and market your own brand, you have better pricing control to maintain good profit margins to balance with Amazon's commissions.
Step Up from Competition
You've got a ton of competition even outside Amazon. And most likely, your competitors are starting to join Amazon, branching out to a popular platform where they can garner even more sales and brand visibility. If you're left behind, then you're missing out on all the potential sales you would have made.
That's why I recommend setting up your Amazon eCommerce account while working on your business website, which will give you the foundation to grow your customer base.
The Challenges Selling on Amazon
While Amazon does have its benefits, it also has its challenges. It's best to be aware of these disadvantages to stay ahead of the game and be prepared with proper strategies.
FBA is Quite Pricey
FBA is a convenient way to take the logistics issues off your chest. However, some sellers have quit selling on Amazon due to the FBA and its prohibitive costs.
There are various reasons why FBA was pricey for sellers, such as products that have little profit margins or costs of inventories that never move. It can also be due to very large products that are costly to produce, or seasonal products that sell big once or twice a year, rather than daily.
With that in mind, if you do sell and strategize wisely, you'll be able to take advantage of FBA while still bringing home a fair profit margin, including other Amazon-related costs.
Competition is Tough
As mentioned, it's easy to begin selling on Amazon. In fact, it can be TOO easy, so you have newcomers selling similar products, potentially at a much lower price, luring buyers away from you and other sellers. The growing competition can make it difficult to stay visible on Amazon, especially if you're selling highly saturated products.
Fortunately, you can optimize your listings in such a way that you end up in the top search results. However, this does take some time and effort on your part, which can be discouraging.
You're Still Responsible for Customer Care
Amazon Marketplace is a great way to sell more of your products and put your business out there. But ultimately, Amazon will own customer relationships. You won't be able to remarket to Amazon or sell to most of them outside the platform, as they are Amazon customers.
Unfortunately, even if Amazon owns most of the customer relationship, you are still the one responsible for customer service. If any issues arise, you will be responsible for resolving such issues as quickly as possible. If not, then the negative ratings can affect your place in the Amazon Marketplace.
Startup Costs When Selling on Amazon
Before you start selling, you have to prepare your capital for your Amazon business. How much do you need, exactly?
This number varies from seller to seller, primarily depending on two factors:
Where you source products from
The shipping method you'll use to deliver your items
Now, there are three main ways you can look into when it comes to procuring inventory for the business, which are:
Manufacturers: Sellers can contact the company and purchase products at wholesale prices, reselling them on eCommerce platforms for the product. This requires a bit of an investment as companies want to deal with businesses that can invest in large volumes.
Retail Outlets: Ordering from retail outlets is a popular method when doing business on Amazon. Simply head to a retail store and purchase items at discounted prices, then sell them online.
Create a Brand: You can even create your own products by designing and developing new ones, getting them manufactured for selling. You are responsible for branding, quality testing, among other operational aspects before releasing it to the market. All profits will be yours, as you own the rights to your brand and product.
The initial inventory fees can be as low as $200 or go beyond $8,000, which depends on the products you plan to sell and your business model. Add the Amazon monthly selling fee and other costs, such as branding, shipments, photography, along with other overheads.
When adding everything, expect to prepare an initial investment for as low as $350-600. Again, this can be more depending on the product and how you'll spend on the costs, but this is a benchmark most newbie sellers can start with, especially if they don't have that much of a capital to begin with yet.
Amazon Fees to Take Note Of
Unfortunately, you can't sell on Amazon for free! There are other Amazon seller fees, as I mentioned before. Here are the different types of fees you should take into account when selling on Amazon:
The Amazon Professional Plan's monthly subscription fee, which is $39.99 a month. This fee is applicable only for sellers who plan to sell over 40 items a month. This already includes referral and variable closing fees.
The Amazon Referral Fee is a fee paid per product under the Individual Plan, which is $0.99 for every item sold, excluding referral and variable fees, which are calculated as the fixed percentage of your product's selling price. Think of this as a commission Amazon receives for every sale made.
Amazon FBA fees, which are fees you pay per product and would depend on its size and weight. The larger and heavier your product, the more you need to pay.
There may also be other fees included, such as storage and export fees, stock removal fees, and more to consider.
With all these costs, you need to ensure that your profit margins don't suffer. Study all the fees included when selling on Amazon so you can price your products appropriately while still keeping it fair for consumers.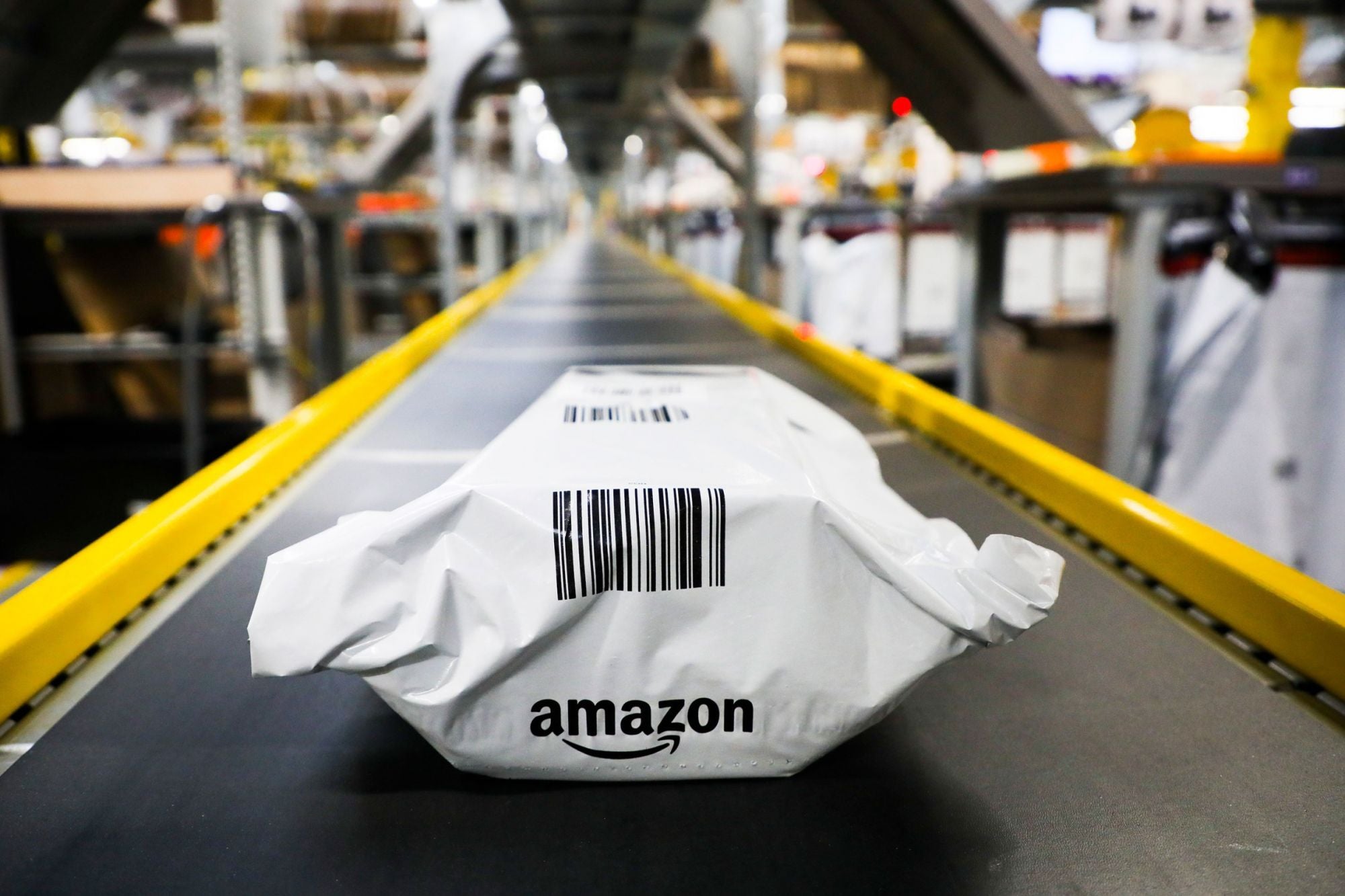 Products to Sell on Amazon
As I mentioned, the capital you'll prepare for depends on the products you plan to sell and how you'll procure the chosen products. Figuring out the products to sell is a crucial task, and you'll need to conduct in-depth market research to select the right product that passes these criteria:
It offers excellent profit margins
There is low to moderate competition
It's small and lightweight
Has consistent and steady demand all year long
Has no seasonality
You can sell over 10 units daily (40-50 products a day, to begin with, is already a great bet)
You shouldn't choose a product right off the bat, based solely on what YOU want to sell or what you THINK is popular right now. Instead of blindly jumping to the market, choose a product with careful consideration and much research.
Don't go for products that are part of highly saturated markets, as you'll have a difficult time competing with other sellers and big companies, making it hard for you to get visibility and traffic to gain sales.
Besides this, take note that Amazon will still need to approve of your product to see whether or not it's 'sellable'. Amazon would limit the number of sellers per category to maintain product quality.
20 categories are open to any seller, so when selling under these categories, it requires no approval. There are another 15 categories that do require approval though, and if you will sell under that category, you'll need to have a Professional Selling Plan.
How to Sell Your Products: About Amazon FBA
When you're strategizing ways to sell your products on Amazon, there are two ways you can do so. You can either do it on your own, or you can join the Fulfillment By Amazon program (FBA).
When doing it on your own, it's a simple process. List the products you're selling on Amazon, and when you receive orders, ship them. You will also be in charge of processing returns and refunds, providing excellent customer service, and making sure your orders are delivered on time. When doing all this, you need a good logistics partner, as well as the necessary infrastructure to prevent scaling problems.
As for FBA, this is when sellers leave it to Amazon to do the tasks mentioned above. What you'll need to do is to label and ship the orders to any of Amazon's fulfillment centers, then the rest is taken care of.
When receiving an order for one of your products on sale, the FBA model will pack and ship the product to the customer, as it has its own established infrastructure. Furthermore, it will process refunds and provide customer support.
When you think of it, FBA is the way to go, right?
Well, both of these selling methods have their pros and cons. While FBA is a great option, its features come with a price, which can be quite pricey. The Amazon FBA fees are what you pay per product, which would depend on various factors, including product dimensions and weight.
About Amazon Seller Central: Creating Your Account
Now, on to Amazon Seller Central, which is your platform for everything retailer-related on the platform. When you have Seller Central, you can be an online seller without needing to worry about certain aspects, such as handling payments, designing and maintaining a website, or having to process returns, compared to other eCommerce stores.
This platform is where you should begin your journey as an Amazon seller. Besides this, if you have the Amazon FBA model (or Fulfilled by Amazon), then it becomes even easier. Simply send over your inventory to Amazon and they'll take care of everything else after.
Now that you're familiar with where you should head to when selling products on Amazon, the next step is to create and set up your Amazon Seller Central account the right way. Here are the steps and tips to get you started:
What You Should Prepare
When setting up your account, you'll be filling up a registration form. It's best to have the necessary information prepared to save time and effort as you sign up. Have these in hand:
Your business' name
Contact information for both Amazon and your future customers, though it's best to have separate details for these
Your real name and address
Shipping locations, which are the regions you can deliver your products to
Your payment information and bank account details
Your business or seller logo
More business information, such as your 'About Us'. This is what consumers will see when checking your online store on Amazon, so make sure to take time creating an attention-grabbing description to instill trust in prospective customers
Your return and refund policies
Tax identification details
Creating Your Account
Once you have your information prepared, the next step is to create your account. Follow these steps:
Head to Amazon.com and select 'Sell', located at the top of the webpage. You can also head straight to http://services.amazon.com.
Select the 'Start Selling' button, where you'll be directed to the account creation webpage.
Enter your name, email address, and chosen password. Be sure to have a secure password that won't easily be compromised.
Now you can log in to your new Seller Central account. You'll be directed to your Seller Central account configuration page. Enter the basic information you prepared, which was mentioned above.
There will be five different sections you'll have to fill, which is simple and understandable. One section is named 'Tax Information', where you'll have to provide your tax identification details, which include your entity's name, address, federal tax classification (whether your company is registered as a sole proprietorship, partnership, or LLC), along with your Social Security and/or Individual Tax Identification Number.
As you fill out your details, double-check each part. Take note that you only require one Seller Central account when selling products in one region, no matter how many products and brands you plan to offer. But if you plan to deliver to various continents or regions, you might be required to set up different accounts.
When you have your Amazon Seller Account, I recommend that you secure your account with two-step authentication for an extra layer of security.
Now, you're ready to sell your products!
How to Begin Selling on Amazon Seller Central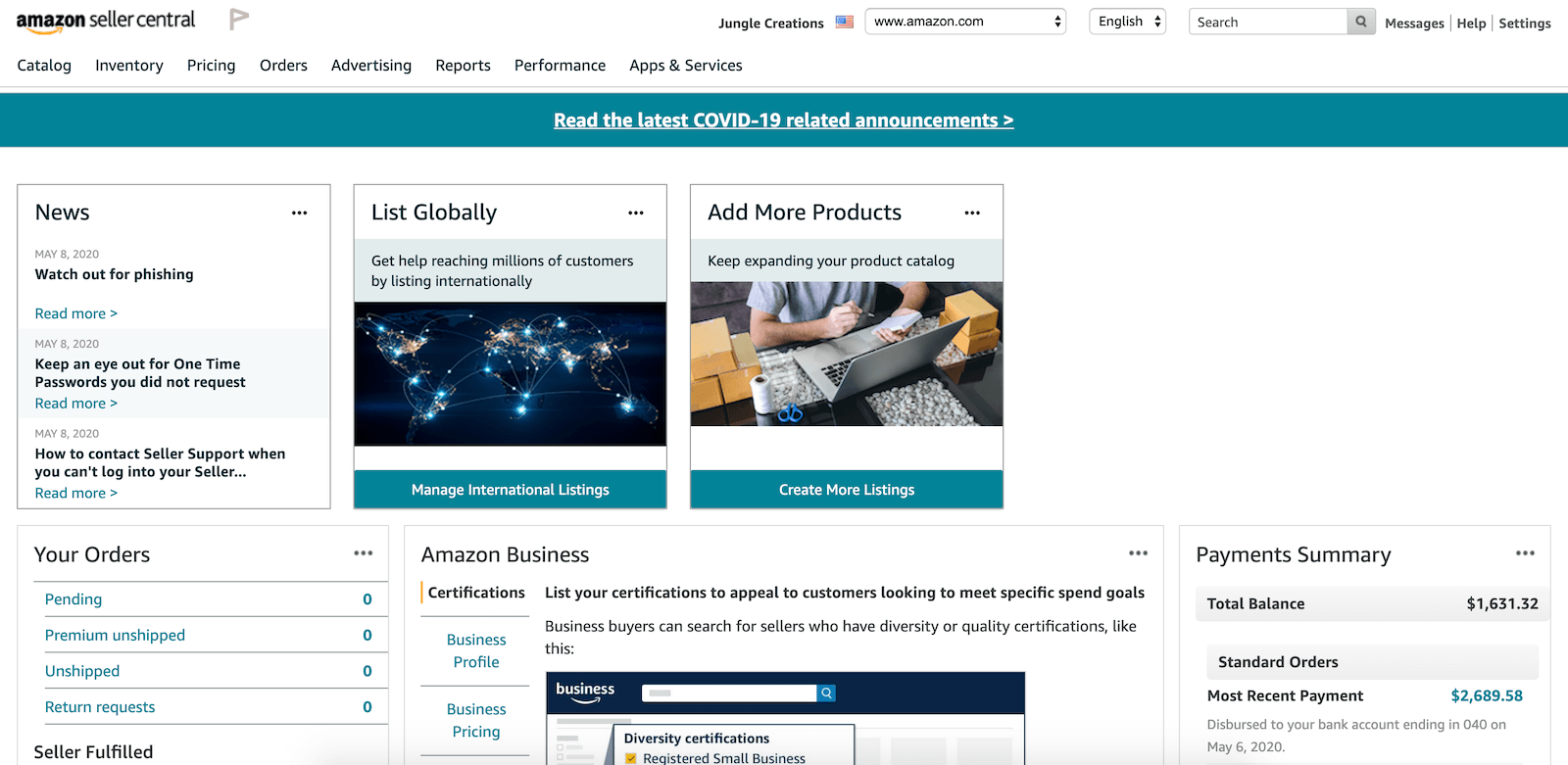 Now, it's time to begin listing your products on Amazon and sell!
When you have an Individual Plan, you can only add one product to the Marketplace at a time. For the Professional Plan, you can add batches of products.
For those who sell products already listed on the platform, simply put the amount of the product you plan on selling, its condition, and the shipping options. If not, then this may be a bit tricky, as you'll need to tell Amazon your products' universal product code and stock keeping unit, then listing your products' features, including the titles, descriptions, and prices.
Afterward, set up the shipment options if you haven't yet, choosing between shipping products on your own or by Amazon's FBA. Then, you're good to go and can sell on Amazon now.
With the growing competition, you can't expect to post and relax afterward, waiting for the sales to come! You also have to optimize your product listings to have a better chance of them reaching the top results pages, bringing you more visibility and views.
To do this and attract more customers, follow these tips:
Create compelling product listings with clear and concise titles, vivid and clear pictures, and descriptions rich with benefits. Use appropriate keywords people will use to search for your products, which you can identify with proper keyword research.
Consider having sponsored product ads, which are pay-per-click and placed strategically using Amazon's algorithm.
Encourage reviews after people have purchased your products. The more positive reviews you have, the more credible your business is, having people trust you more. You can send follow-up emails to previous customers, requesting a product review, but NEVER purchase reviews, which is a huge no-no on Amazon.
Another great thing about the Amazon Seller Central Account is that you can go beyond posting your product listings. The platform offers tools to help analyze your listings' performances, so you know what to improve on, along with monitoring your sales.
On your account, you'll get access to your sales dashboard. This shows your daily orders, how many units were sold, the number of sales made for the day, among other metrics. You'll also be able to see other business reports displaying important metrics, such as your orders by the month, page views, inventories, brand performance, and more!
Utilize these tools to get a gist of whether your product listings are doing well or not. Based on your findings, reevaluate and improve your current marketing strategies so you can sell even more. That's why it's also crucial to learn how to read business metrics and analyze them properly to set up an even better game plan!
Repeat the steps in posting product listings when you have new products coming out and continue providing excellent customer service. As long as you monitor everything daily and keep your customers happy, then you can find success when selling on Amazon.
The market in Amazon is massive, growing more and more as consumers shift to online shopping for virtually ANY product. However, you shouldn't enter the Amazon eCommerce platform blind. You need to make sure you're equipped with the knowledge, capital, the right products, and marketing strategies, along with the drive to sell with all the competition.
We hope that you found insight on this guide to Amazon eCommerce analytics, along with the ins and outs of selling on the platform. Don't wait any longer and get started with Amazon today to reap the benefits and gain sales to grow your business. Good luck and contact us now to learn more about how we can help you reach your goals.