Walmart eCommerce Analytics: What to Know When Selling on Walmart.com
Walmart describes itself as one of the largest multi-channel retailers worldwide, a mass merchant and the largest grocery seller in America. The multinational retail corporation doesn't just stop at hypermarkets and department stores though, as they also have an eCommerce platform to sell their products, along with providing sellers the opportunity to sell their own.
With the digital marketplace growing rapidly, more brands and sellers begin to see the platform's potential, expanding their eCommerce business over to Walmart. Why?
The numbers show just how much growth Walmart eCommerce experienced in the past year alone. Walmart reports that the US eCommerce sales on their platform grew by a whopping 79% during the 3rd quarter of fiscal 2021, with eCommerce sales contributing to 5.7 percentage points to its comparable sales growth. That's why it's high time that you begin looking into Walmart's offerings and how you can take advantage of it.
However, a big challenge for sellers is knowing how to use Walmart.com to garner sales and profit, becoming successful in the platform. This guide will walk you through everything you need to know about Walmart eCommerce analytics, from the reasons to use Walmart.com down to how to become a vendor and boost your sales.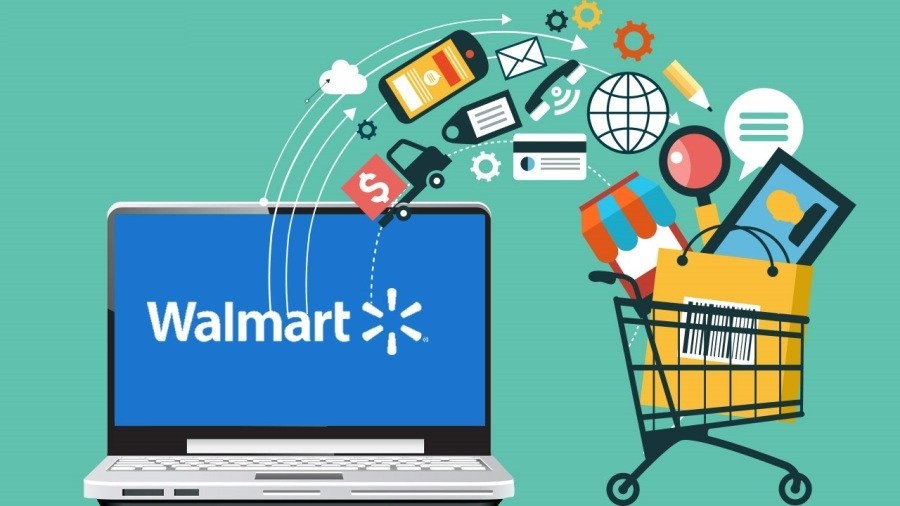 What's Unique About Walmart eCommerce? Reasons to Sell on Walmart.com
Walmart is one of the quickest-growing marketplaces, which continues rolling out helpful features for brands and sellers to gain from their platform. In 2019, they invested over $1 billion in their digital efforts alone.
Fortunately for the company and its sellers, it paid off. Their digital platform was the most downloaded app on Black Friday in 2019, and their 2020 Q2 results showed a 97% sales growth in their digital business. This put them in a good position to fight against one of their biggest competitors: Amazon.
Besides those numbers, what else makes selling on Walmart.com so great? Here are the advantages:
No Initial or Monthly Fees
There are marketplaces that charge different kinds of fees, from monthly account fees (like Amazon) or to list individual products (like Etsy). With Walmart, they only charge category-wise commission, saving you more as you make profit in the long run.
Wide Customer Base
Walmart has a reach of up to 110 million unique customers monthly, making them one of the optimum platforms where your products can be discovered. This has you spend less on marketing to gain impressions, as potential consumers can search for your products easily.
Low Competition
Walmart.com is an executive marketplace, not just anyone can sell on their platform. They have a step-by-step application process (which will be tackled later on in the next section), so customers know that they are transacting with trustworthy sellers.
Furthermore, Walmart isn't as crowded compared to its competitors, Amazon and eBay. With fewer competitors means higher product visibility to millions of consumers.
Authoritativeness and Credibility
Buyers are more comfortable knowing that they are purchasing under reputable names rather than visiting new websites. Walmart has been around for almost 60 years, with their online platform continuing to grow since 2013, making them trustworthy to both buyers and sellers alike.
Smooth Transactions
Walmart invests in features and strategies to make sure that their visitors and consumers keep coming back to shop on their website, with quicker page checkouts and smoother transactions compared to their competitors. Your customers from the Walmart marketplace will enjoy the easier process, making them more inclined to check out and pay for your products on the first visit!
The Challenges of Selling on Walmart.com
 There are disadvantages you need to take note of as well. Learning about these challenges can help you prepare effective digital marketing strategies when on the platform.
Lower Profit Margin
Walmart's philosophy is all about customers saving money. Because you have multiple competitors with similar products, along with commission fees, you'll experience lower profit margins.  
Shipping and Customer Support
Walmart expects third-party sellers to take care of their own post-sales operations, including handling and shipping, customer service, as well as returns and exchanges. Furthermore, merchants should deliver their products using non-branded packaging, preventing them from placing brand-related promo materials in the product packages.
Listing Issues
When there are multiple sellers offering the same product and price, Walmart may promote the item listed first. This may make you less visible if you listed your item before your competitor, so you will need to lower your item price to beat the first lister.
Strict Rules on Pricing
Walmart expects its sellers to offer products at the lowest cost on their marketplace. If they find that a seller offers the same product at lower prices, they can de-list your item.
How to Become a Walmart.com Vendor: Get Approved to Sell
Before you even begin selling on Walmart.com, you will need to apply to sell on the platform first. Both US and non-US sellers can apply to sell on the Marketplace, with approval depending on the following:
You need to have your business registered in the US and have a US address for warehouses. If you are outside the US, you require a DUNS number, which is a worldwide standard assigning a unique numeric identifier to one's business identity.
Your business should specialize in one or more categories Walmart offers
The business needs to have at least one year of a selling history with positive reviews on platforms or websites you already sell on, or other proof of merchant fulfillment
Other factors that influence your application are:
Your business reputation
Sales projections
If your business aligns with Walmart's values
If you don't meet these standards, you will be denied and unable to apply for 6 months. The time it takes to get your business approved will vary, depending on the seller's size, capabilities, and of course, the qualifications. It would usually take 2-3 weeks but may also take a few months, so do be patient.
If you are approved, then you will receive an email invitation to set up your Walmart Seller account.
Setting Up a Walmart Seller Account
Once approved and received the email invite, head on to the online partner portal, which will walk you through the steps of setting your account. You will need to create a password to set and manage your account.
From here, you will sign up for an account, fill up vital information, then create and launch product listings to the Marketplace. There will be a Launch Checklist that guides you through every step, making the process smooth and understandable.
During the first step of signing up, you'll need to provide your business' name, physical address, Payoneer account, along with a digital W-9 form. Take note that Walmart will credit 1 cent to your Payoneer account to check and verify it.
You'll also need to choose your pricing model, default shipment methods, and the regions you support for products you'll sell on the Marketplace.
After registration, you will then set up your Partner/Seller Profile, providing information such as:
Company and About Us
Contact details, including your email, contact number, and opening hours
Shipping options
Return procedures and policies
Private policy
Tax information for your sales tax requirements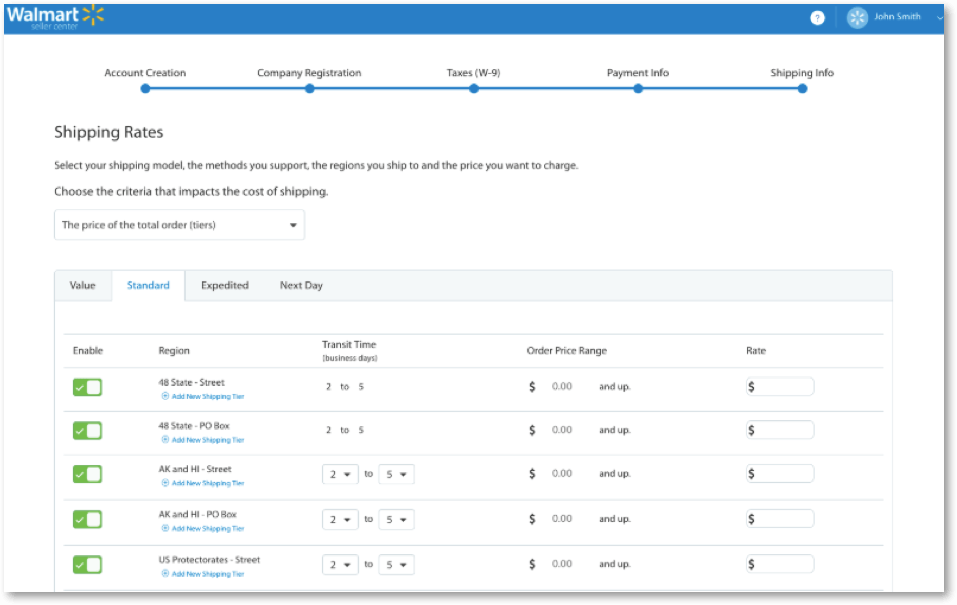 Uploading Your Products to Walmart.com
After setting your Partner/Seller Profile, you can begin setting up your product listings to launch on Walmart. You can do so manually, though it's best to upload product listings through a bulk upload or product feed.
When you decide how to upload your products, it's time to build your product feed, which is fairly easy for experienced sellers. You will need to fill up the attributes, such as:
Product Name
Product ID
SKU
Brand
Manufacturer, Part Number, Model Number
Long, Short, and Shelf Description
Images
Product Tax Code
Price Currency and amount
Shipping attributes
Color and/or size
Category-specific attributes
Afterward, you will test the product feed for reviewing and approval of the setup. After it is uploaded to your account, set up and test the order management connection and its features.
While the product feed is up for review and approval, set your order management method, since you need to take care of all the order processing, customer service, shipment, along with returns and exchanges. You can do this manually, using Excel, or having an Order Integration Partner. Once decided, check the step off the Launch Checklist, and you'll be ready to Request Launch and Go Live.
Walmart's Integration Team will review your account, products, and settings. Once approved, your listings will go live.
How to Boost Your Sales on Walmart.com

You've already been approved to sell and become a Walmart.com vendor? Congratulations!
But this is only the first step to gaining a wider reach and more sales. Note that there are various factors that MIGHT make or break your sales on the platform, such as:
Your product pricing
Customer reviews
Walmart requirements and customer expectations
Optimized product listings
Your advertising, such as the display and sponsored products shown
With these factors in mind, here are ways you can boost your sales on Walmart.com:
The Buy Box
When winning the Buy Box, it means that your product listing is the first choice for customers. Walmart created this concept for competition between sellers who sell the same items. When winning the Buy Box, sellers need to offer the same products at the lowest possible prices, including the shipping fees.
Gain (Positive) Customer Reviews
Customer reviews of products appear under the price, which is submitted to and stored by Walmart. Reviews can have people to purchase items or turn them away. As much as possible, encourage customers to leave positive reviews of your product and services, provided that they experienced a smooth transaction.
Meet Walmart's Seller Requirements
You need to ensure you follow the customer service and shipping standards of Walmart, or risk getting your account and/or listings suspended. Here are their requirements:
You need to have at least 99% on-time ship standard with 99.5% accurate products shipped.
Cancel rate should be less than 1.5% while returns from damaged or defective products should be less than 3%
You should have a 90-Day Seller Rating of at least 90%, with less than 0.5% customer service escalations
Confirm all order files from Walmart within an hour of reception
Conform all order lines from order files within 4 hours of reception
Provide an electronic notice confirming the shipment of products, along with its tracking information, within 4 hours
Send refund requests within 24 hours of receiving a customer adjustment or refund request
Answer at least 60% of customer calls within one minute with no more than 4% of abandoned calls
At least 90% of customer emails should be answered within 24 hours
These are requirements from the Walmart Seller Agreement Document, which is subject to change anytime.
Advertise on the Platform
You can boost your sales with paid ads as well, which are CPC (Cost-per-Click) ads used for various purposes, such as Brand or Product View Lift, Add to Cart, ROAS, Search Lift, or by Percent of Exposed Shoppers.
There are several areas your ads will appear on, such as:
Native banner ads from the category home page
Landing page ads in specific product categories
Sponsored ads in product grids
Leverage an eCommerce Analytics Platform to get a Competitive Edge
By partnering with a company like Analytic Index to provide you with Walmart.com ecommerce analytics, you can better understand what brands are performing the best in your category, why they have good performance, what keywords to target, how to hone in you sponsored search and much more. With access to this exclusive information, your team can make adjustments that will help you dominate your category sales.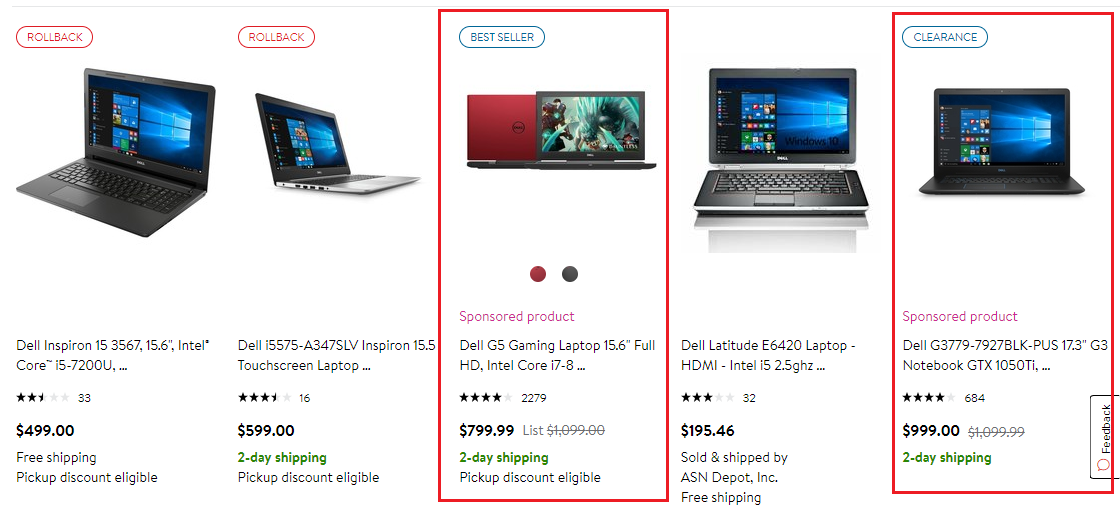 Optimizing Walmart.com Product Listings
One tip to boost your sales on Walmart.com is by optimizing your Walmart Page Listing content. When you take the time and effort in optimizing your product listings, it can create the significant (and positive) impact on their performance.
When you optimize your product listings excellently, it can lead to higher conversion rates and better discoverability, which increases your sales and revenue.
To optimize your product listings on Walmart.com, follow these tips:
Category and Attribute Mapping
This part decides where your products will appear. They define your product and help visitors arrive to their wanted result based on their individual preferences on the filters Walmart provides. Be sure to set the category and its attributes so your listing is visible to your target market.
Title, Description, and Meta Keywords
Your title will reflect the product type and must be unique, user-friendly (with keywords, generic terms, and specific attributes), so customers can search and find your product listings easily.
Once you have a good title, write a good product description, placing complete information about your product. Here are tips when writing a good product description:
Include everything buyers need and want to know about the product, which can help increase the conversion rates.
When writing product descriptions, use an active voice and be concise as you talk about your products' value proposition so they stand out.
Use and repeat proper keywords, but avoid using the same keywords over three times, or stuffing it around your description.
Include backend keywords, tagging, and product attributes 
It's also recommended to place meta keywords, which is additional information buyers put in search bars. They are keywords or keyword phrases associated with a product, which may be entered by buyers to arrive to their desired results directly. This also increases visibility, so perform proper keyword research optimized for Walmart.com.
Images
Images can make or break purchasing decisions, so make sure it is high-quality and attractive to grab visitors' attentions! Besides this, there are guidelines Walmart will need you to follow, such as:
The images should be in focus and under good light, centrally-placed in front of a white background
There should be no accessories that aren't included with the product
The images need to follow Walmart's Trust and Safety standards
Don't include graphics, illustrations, logos, texts, or watermarks on images
If possible, include images and videos showing your products when in use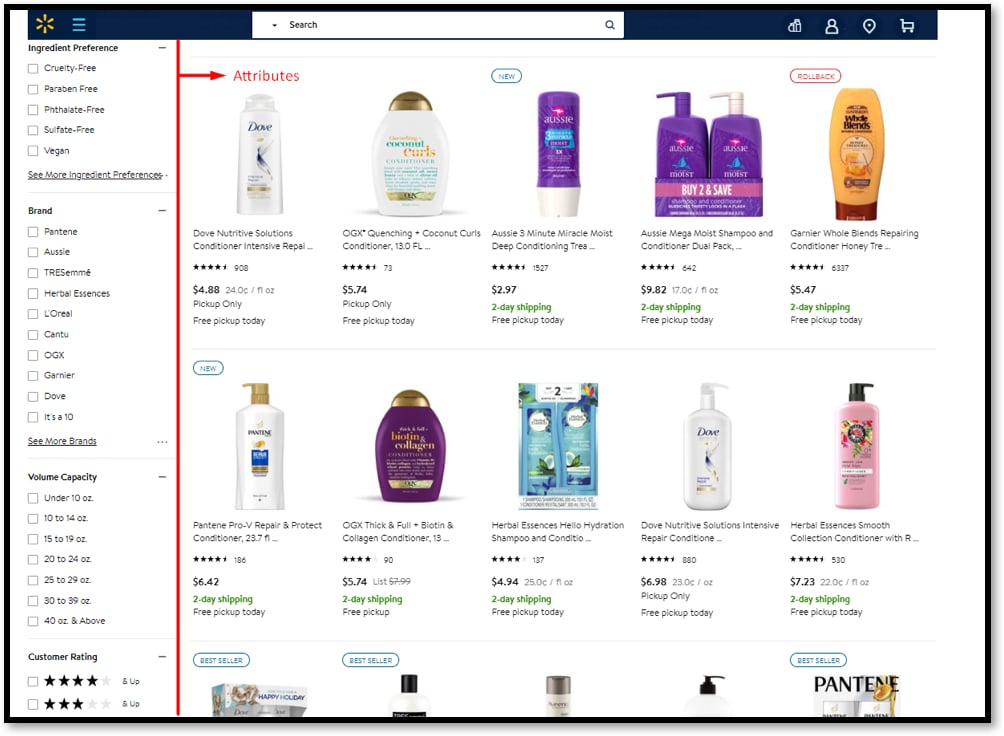 How Sellers are Paid on Walmart.com: Pricing Products and Taxes
As mentioned above, Walmart.com has no monthly or annual fee, nor is there a product listing fee. Rather, they charge a referral fee for every product sold.
This is different compared to annual or product listing fees, as referral fees will take a percentage of your product's selling price, which is based on its category. That way, you will only have to pay for every product sold.
As of 2020, the referral fee percentage rates can range from 6% (Personal Computers) to 20% (Jewelry). Typically, the percentage rates are around 15%, without hidden costs.
How do you get paid, though?
Walmart uses Payoneer to pay their sellers. For sellers with existing Payoneer accounts, you can link them to Walmart directly while setting up your account. But if you do not have one yet, it's best to set an account AFTER registering to the Marketplace.
After being approved to sell on the platform, you'll have access to the Seller Center, where you can begin registering for a Payoneer account. That way, there won't be fees for money transfers from Walmart.
For those who create a Payoneer account then link it to the Seller Center, there will be a fee that comes automatically for every transfer. While you can contact Payoneer's support team for refunds, this needs to be done for every transaction, making it a hassle.
What about taxes?
You have the responsibility to know, collect, and remit sales taxes for products you sell. The way you indicate sales taxes in your listing is your decision, either listing it separately or incorporating it to your product's price already.
You can check Walmart's Marketplace Retailer Information Page for an updated list of Walmart's tax requirements and policies. They also have partner tools in the Seller Center so you know what tax codes and jurisdictions apply while Walmart.com will handle the rest, as you have the option to have Walmart.com collect sales tax on your behalf.
Shipping and Customer Service on Walmart's Marketplace
Here are what you need to know regarding shipping and customer support when selling on Walmart.com:
Fulfillments and Shipping
First-party sellers can ship their sold products to a Walmart fulfillment sellers and they will take care of everything else afterward.
For third-party sellers, they are the ones responsible for their own customer service, along with shipping, exchanges, and returns. Because of that, they can enter shipping costs with their listings while offering free shipping.
Sellers can set their shipping costs either by:
Tiered Pricing, which means shipping will be charged based on the item price
Item/Weight Pricing, which means shipping is calculated on the item weight or number of items ordered
There are tools and networks Walmart is affiliated with, making it easier to manage and ship items.
Customer Service
While Amazon offers FBA options, third party sellers on Walmart Marketplace are responsible for fulfillment, which includes managing and supporting any inquiries, shipments, exchanges, and returns. 
This means more work but more control over your fulfillment processes. A few sellers prefer working with partners when supporting their catalog with fulfillment services.
Cancellations
If Walmart believes an order is suspicious, it won't be released to the seller, with the customer receiving a cancellation email. All cancellations will be final and cannot be reversed or shipped. 
When a shopper cancels an order, sellers need to do all they can (within "commercial reasonability) to stop the shipment.
Returns and Refunds
When sellers sign up on the Marketplace, they need to write a return policy of less than 4,000 characters. Because sellers are responsible for customer service and fulfillment, they can dictate their return policies, providing it is transparent and up to par to the one on our site.
With the rise of eCommerce and digital marketplaces, Walmart has now opened their doors to third-party sellers that offer high-quality products (within their categories), customer service, and quick deliveries. With the many advantages the platform offers, including the wide customer base and lower competition (for now), sellers should seize the opportunity and take the first steps in becoming a vendor in Walmart.com now.
Hopefully, this guide on Walmart eCommerce analytics provided everything sellers need to know about the platform. If you are a seller interested in getting a higher reach, keep this information in mind for a higher chance of vendor approval. Good luck!
If you are interested in learning more about the most comprehensive, actionable and affordable Walmart.com ecommerce analytics on the market. Fill out the form on the side of the blog and we will get back to you as soon as possible.